What's new on 30. 9. 2015 – Still The Race I Love 仍然是我喜愛的賽事 + 特別活動
The HKDRC 38th Green Half Marathon and 10K Run 2015 – Still The One I Love
The HKDRC 38th Green Half Marathon and 10k Run are opened for ONLINE APPLICATION. The entry quota for Half Marathon and 10k Run is 1200 and 500 respectively.
We received overwhelming responses from the participants, and as of 25 September, close to 1100 participants, of which 850 for the Green Half Marathon and 250 for the 10K Run are registered. The entry quotas for both are up to 75% and 65% full.
Included in 1100 participants, a total 7 teams of 4 runners have registered for team competition, they come from :-
TKO Fd
TKO Plane
TKO 大阪隊
Forgot My Kit-Chee
Why So Serious
BC Runners
Sub Free
A total 22 foreign nations runners registered and they come from :-
Hong Kong
People of Republic China
United States of America
Britain
Germany
France
Australia
Japan
Spain
India
South Africa
Canada
Taiwan
Singapore
Malaysia
Columbia
Korea
Chile
Ireland
Denmark
Mexico
Romania
Switzerland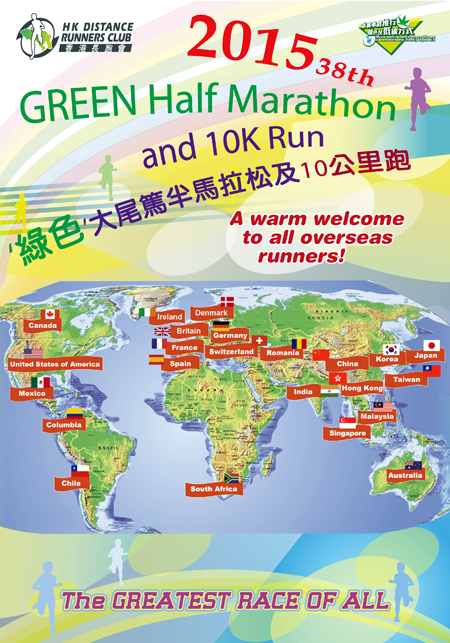 The entry applications can be made either :-
By online registration through www.hkdrc-race.com ( Effective Now )
By email : enquiry@hkdrc.org
By post : HKDRC G.P.O. Box 10368, Hong Kong
The entry fee for each application of the Green Half Marathon or 10K Run is $200.- before 9 October and $240.- thereafter. There are 4 weeks remaining for your submission of entry applications. Please take immediate ACTION without delay. The time limit for your completion ( traffic free, zero emission course ) is 2hrs 30mins.
A complete set of 7 items of special designed sustainable souvenirs include T-shirt, towel, water spray fan, finisher medal, organic vegetable, Perskindol Gel, and gift bag will be given to each participant. We offer FREE shuttle bus services at 4 stations for transporting participants to the race venue. The provision of seating is first come, first served for those early registered participants.
ChampionChip ( MyLaps Bib Tag ) timing system will be employed for recording of race results. Certificate for Hong Kong Green Runner 2015 with your finished position and time duly endorsed by us and the sponsors can be issued upon request.
A fastest 10K Run at 32mins 31sec. by Nad Ckel was recorded in this course in 2004
Two FREE seminars on 'Way to Run Without Pain' will be conducted by AFTC in September and October. Selected participants shall be notified by email.
Some new activities will be included in this race :-
- Demonstrate Underfuse Pocket by T5 Lab
- HKDRC Souvenir sales at discount
- Sign up for joining HKDRC as a member in 2016
Very Special Activity – 2015 is the year to commemorate the 70th anniversary of the Chinese people's victory against Japanese aggression. There is an anti-Japanese memorial 抗日英烈紀念碑 erected at Wu Kau Tang village. Wu Kau Tang was one of the major bases of the Hong Kong-Kowloon Independent Brigade during the Japanese Occupation. Runners may take this opportunity, after finish the run, go to view this historical memorial structure.
Participants who submitted application by online registration are advised to download a RUNNER'S GUIDE (RG) from our web site www.hkdrc.org Complete the RG with your assigned race number, entered division and selected bus station bring it in person to collect your runner's pack at the RACINGTHEPLANET極地長征 shop at address " RacingThePlanet Ltd., 22/F., 148 Wing Lok Street, Sheung Wan, Hong Kong " in between 17 – 31 October 2015.
The Entry Form can be download from web here , www.hkdrc.org or www.hkdrc-race.com
HKDRC Race Committee
香港長跑會 - 賽事委員會