What's New on 9. 3. 2015 – Mount Butler ( Heritage ) Race : Latest Status
HKDRC – Nature's Village 39th Mount Butler ( Heritage ) Race – Better Place, Better Race for You n' Me 2015
The HKDRC – Nature's Village 39th Mount Butler ( Heritage ) Race ( 22 March 2015 ) received overwhelming responses from participants.
As on 9 March 2015, up to 1150 participants including 37 teams of 4 runners have registered for taking part in this race. Our entry quota reaches 95% full. There are 50 vacancies remain. PLEASE HURRY UP, WE SHALL STOP ONLINE REGISTRATION on 16 March 2015, 00:00. Beyond that date, you have to complete the entry form submit either by post, email or bring it with you on the race day to the venue for registration.
An opportunity for you to view below " World Map Runners " with over 20 foreign nations runners are appeared on this map. It's not because of money, not because of its late production. It is because your enthusiastic support. We expect more and more runners of foreign nations will continue sign up joining our race.
----- WORLD MAP RUNNERS ----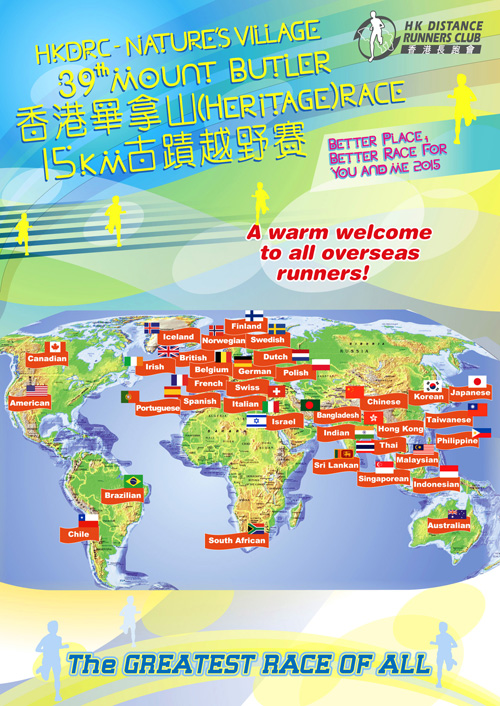 Runners who failed to submit applications on or before 16 March 2015, are advised to complete entry forms and turn-up on the race day for registration
According to the latest registration record, over 21 foreign nations' runners signed up for participation, they come from :-
American - Australian - British
Canadian - Chinese ( PRC ) - French
German - Hong Kong - Belgium
Italian - Japanese - Spanish
Thai - Bangladesh - Netherland
South African - Irish - Philipine
Finnish - Korean - Icelandic
For Team Competition, up to 37 Teams of 4 runners including Teams of Men, Women, Mixed Men and Women and Schools. Their names are :--
- 猶太人 - The Minions - 畢拿山郊遊隊
- Firm - Rat Runners (3) - Neighbour
- Cheung Chau Team - Fifth Floor - EFCC Kong Fuk Church (3)
- Red White Blue - Four Monkeys - RICCI
- Hong Kong Beer Club - The Supernana - 必達跑死隊
- Running Dead - Team Spartan - 喜羊羊
- CX Runners A Team - 包租專吸女 - Lok Wah Runners Club
- EFCC Kong Fuk Church ( M1 & M2 ) - Enforcement && Central
- EFCC Kong Fuk Church ( Female A, B, C ) - 學生 A & B
- EFCC Kong Fuk Church ( MA1 ) - 大專 B
- Polar Bear - CX Runners B Team - 順德聯誼總會翁祐中學
- Audience Engagement
SPECIAL ATTENTION:
(1) Manufactured under new technology and made by special material, Pin-Less Race Number will be supplied, runners are advised to follow the user guide that has imprinted on the back side of the race number
(2) Some New Activities will be conducted at the race venue on the race day :-
-Taxwood and Apple Ltd., our next race sponsor will present and display some of their new products ( not firm ) at the race venue
- Nature's Village, our title sponsor will display and distribute their energy products at the race venue.
- HKDRC will launch environmental souvenir sales at Discount
(3) Runners' Guide can be downloaded from our website at www.hkdrc-race.com / www.hkdrc.org
(4) The 1st lot of 9xx registered runners' names has been uploaded on our web www.hkdrc.org Those who found your names are advised to visit RacingThePlanet, our major sponsor's Flagship store at address as given below.
(5) Discount will be given to all registered runners for purchasing Nature's Village products at all Nature's Village outlets in Hong Kong and Kowloon.
(6) All registered runners before 28 February 2015, are advised to observe our web site www.hkdrc-race.com, follow the notice to go to RacingThePlanet Ltd (極地長征) Flagship Store on the designated period to collect his/her Runner's Pack. Runners should bring along your ID Card / passport / (copy) for verification. The runner's pack includes number bib, baggage tag etc. Details are as follows:
| | |
| --- | --- |
| Registered | Pick up Runner's Pack Period |
| on or before 28 February 2015 | 1 – 15 March 2015 |
| Between 1 March – 20 March 2015 | At the venue, on the race day |
RTP Address
Flagship store, RacingThePlanet Ltd., 22/F., 148 Wing Lok Street, Sheung Wan, Hong Kong (Location Website: http://www.racingtheplanet.com/store/contacts/)
Telephone
(852) 8102 8113
Opening Hours
11:00 am – 8:00 pm (including weekends and public holidays)
The HKDRC – Nature's Village 39th Mount Butler ( Heritage ) Race 2015 is an important annual event to running athletes in Hong Kong. The Mount Butler Race stands for its history ( 1976 – 2014 ), it owns a unique course mixed with hills, trails, roads and steps and the distance is long enough and challenging which no other races can compare. The Mount Butler Race provides 70% uphill and downhill course distance for you to test your capability and to achieve a sense of satisfaction. Completing the Mount Butler Race will make you feel gratitude.
2015年香港長跑會-樂健坊第39屆畢拿山古蹟越野賽對本地運動員是重要的賽事。畢拿山古蹟越野賽經歷38年,是目前香港最有歷史價值和受歡迎的長跑賽。畢拿山越野賽賽道獨特,70% 路段是上,落斜路,山徑,石級,泥路,極富挑戰性。是沒有別的賽事賽道可以比較。畢拿山賽道全長15公里,是磨練跑步的操藝理想場地,完成賽程足以考驗你/妳的體能和令你/妳有滿足感。
The closing date of online registration is set on 16 March 2015, 00:00
截止網上報名日期/時間 :2015年3月16日,零晨0 時
HKDRC Race Committee