What's new on 24. 10. 2016 – Still Accepting Entry Applications
Still The Race I Love 仍然是我喜愛的賽事
HKDRC Green Half Marathon History 銳變中的半馬拉松
HKDRC x Polar 39th Green Half Marathon and SEAM 10K Run 2016 – 30 October 2016
** We are still accepting entry applications **
According to the Royal Observatory, the temperature on the race day is 22-25 deg. C
As of 21 October, a total 1200 runners registered that include 11 teams of 4 runners and 23 foreign countries/nations runners will be competing in this event.
The 11 teams of 4 runners compose of 6 men teams and 5 mixed men & women teams:
班長勁過Looloo
Never Stop
快快跑
Seasons Running Club
西貢體育會
Weekend Runners
Team HoSo
Polar Team Men
Lok Wah Runners Club
FCa
FCa2
A total 24 foreign nations runners registered and they come from :-
Hong Kong
People's of Republic China
United States of America
Britain
Germany
France
Australia
Japan
Spain
Indonesia
Scotland
Malaysia
Singapore
Finland
Philippine
KISH (Iran)
Canada
Chile
Switzerland
Bulgaria
South Africa
Italy
Korea
New Zealand
A World Map showing these runners' countries is being designed. Also a special results listing all these countries (only one first finisher is counted) in order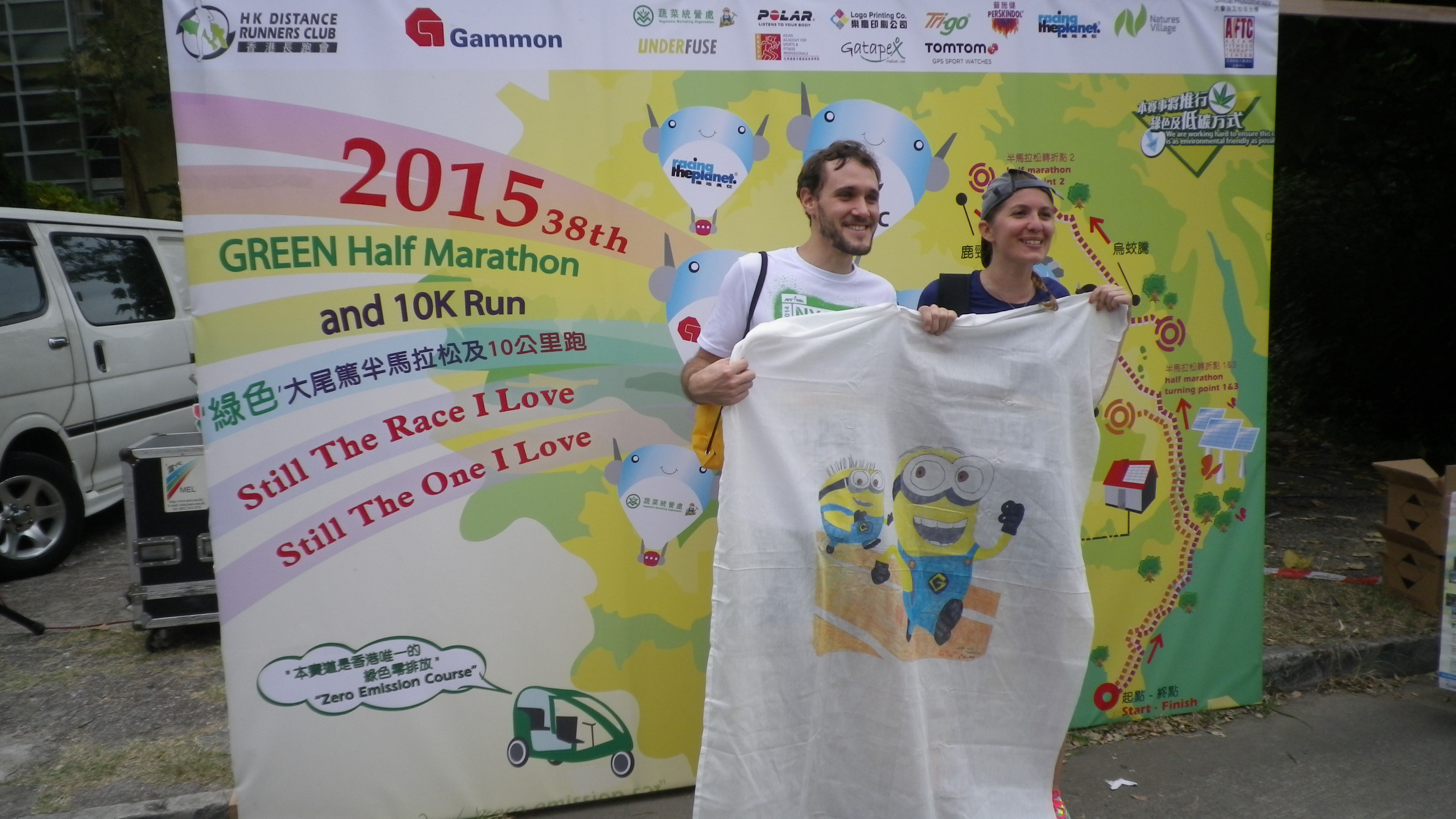 The HKDRC x Polar 39th Green Half Marathon and SEAM 10K Run 2016 are still opened for APPLICATIONS. Should you wish to take part in this event, PLEASE DOWNLOAD THE ENTRY FORM FROM OUR WEB www.hkdrc.org complete and bring it along with you in person to the race venue. There are 30 spare bus seats available at the Hankow Road, YMCA, Tsimshatsui shuttle bus station
The HKDRC x Polar 39th Green Half Marathon and SEAM 10K Run is an environmental race, the course is "Zero Carbon Emission "( traffic free ) which provides a chance for you to experience its differences from others
The entry applications can be made either :-
By online registration through www.hkdrc-race.com ( Effective Now )
By post : HKDRC G.P.O. Box 10368, Hong Kong (Download entry form www.hkdrc.org)
The entry fee for application beyond 5 October 2016 is $(250 + 50) = $300. - You are advised to submit your entry applications as early as possible. The time limit for your completion is 2hrs 30mins.
There are 11 items of sustainable souvenirs include T-shirt, towel, finisher medal, Zitison fan & Mosquito Sticker, Tri-go Foldable Water Bottle, Amour Message Oil, Perskindol Relief Pain Gel Pack, Salonsip Gel Patch, and Polar Gift Bag will be given for each participant. In addition, FREE shuttle bus services at 4 stations are provided for transporting participants to the race venue. The provision of seating is first come, first served for those early registered participants.
ChampionChip ( MyLaps Bib Tag ) timing system will be employed for recording of race results. Certificate for Hong Kong Green Runner 2016 with your finished position and time duly endorsed by us and the sponsors can be issued upon request.
A fastest 10K Run at 32mins 31sec. by Nad Ckel was recorded in this course in 2014. -
Some activities will be included in this race :-
- Demonstrate Underfuse Pocket by T5 Lab and Trial wear of REARM tee
- HKDRC Souvenir sales at discount
- Sign up for joining HKDRC as a member for 2017
- Take a view of the Anti-Japanese Memorial 抗日英烈紀念碑 at Wu Kau Tang

Special Attention (I) – A series of Hiking activities over 7 popular Hills in Hong Kong is being organized. Those Hills are Lion Rock, Needle Hill & Grass Hill, Tai Mo Shan, Pat Sin Leng, Mount Butler, Fung Wong Shan and Dragon's Back. The hiking activity will be set on Saturday morning or afternoon once a month starting November 2016. You are FREE to join our Hiking activity. Detailed schedule of activity will be announced. PLEASE VISIT OUR WEB SITE www.hkdrc.org " Green Work for Green Race – Green Running and Hiking Routes "
Special Attention (II) – The date of our HKDRC 41st Mount Butler ( Heritage ) Race 2017 has been confirmed on 9 April 2017. It is the right time for you to put this date in your Race Calendar 2017. It is also a good time for existing and new SPONSORS to contact us for discussion with our partnering work. Email to us at enquiry@hkdrc.org

Special Attention (III) - HKDRC Green Half Marathon History 銳變中的半馬拉松
香港長跑會舉辦的半馬拉松是自1977 至今年39次,是上世紀80至90年代是獨一無二使用馬路作為比賽的賽道,早年參加比賽的運動員數量只有300,而目前已增加超過1500。早年的賽道和今天有少許不同,起點仍是青年旅舍門前,沿大尾篤路跑約600米轉右往新娘潭路,直到達鹿頸再跑經大灣至南涌,由南涌折返鹿頸新娘潭路,至中段跑進,出烏蛟騰,末段由新娘潭路跑回青年旅舍終點,全程21.1公里。當年賽事選擇於星期六早上舉行,這是由於賽道/馬路車輛流量不大,對交通影響輕微而無需申請封路。早年賽事除本地優秀運動員參加外,更吸引很多外籍運動員和遊客參加。曾經是本賽事冠名贊助商包括Nike, Reebok, Fila及近年支持綠化及環保賽事工作的Gammon Construction Co., Ltd.,金門建築,Rider Levett Bucknell 利比建築測量估算師,Civic Exchange策略顧問及Rotary District 3450扶倫社國際分會。
1997年香港回歸中國,香港經濟發展逢勃,大埔區包括大尾篤,汀角路一帶,以至新娘潭及烏蛟騰村,大量新屋落成居民和遊人不斷增加,交通日見繁忙。同一時間,賽事受歡迎程度和參賽人數按年增加。香港長跑會遂與北區警察部門商議,接受警察部門指示和建議,滿足一些條件從而繼續舉辦這項全港最受歡迎之一的賽事。主要條件包括:
更改賽道 - 以鹿頸為轉折點,重覆進,出烏蛟騰,其他路線不變。
申請封路 – 鑑於參加人數相當,臨時封閉路段以提供安全賽道給參賽者。
更改賽期 – 於星期日早上舉辦賽事,限制於早上10時完成賽事,重開封閉的路段。
提供臨時交通公具 – 於賽事進行其間,提供給新娘潭及烏蛟騰一帶村民臨時交通公具方便有需要時候使用。
2010年開始,香港長跑會支持及推動環保及綠色運動,接受Civic Exchange 策略於籌辦賽事注入環保及綠色元素,工作包括採用網上報名,聘用晶片公司計算成績,取消派發樽裝飲用水,使用無釦針號碼布,派發可持續及重用紀念品。賽事正式命名" 香港長跑會綠色半馬拉松 "
2011年及2014年,香港長跑會先後與Rotary District 3450扶倫社國際分會及Heifer International Ltd., 小母牛國際慈善組織合作,於綠色半馬拉松加插10公里和5公里同步進行,並安排以慈善籌款進行賽事。兩個組織對協辦工作滿意。
香港長跑會自從與上述慈善組織合作協辦賽事後,全體幹事及工作人員取得寶貴工作經驗。香港長跑會 – 承前啟後,繼往開來。不單只可以延續籌辦這個受歡迎的"綠色半馬拉松及10公里",更有能力協助有需要的非牟利組織協辦慈善賽事工作或提供技術及顧問服務。
HKDRC Race Committee
香港長跑會 - 賽事委員會